Essential Pre-Winter Tasks
Book a free consultation to find out more
If you need help with your garden project I am happy to discuss options with you.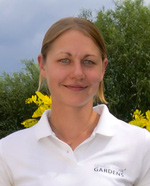 Leaving fallen leaves on your lawn for too long is unhealthy for the grass as it encourages disease, worm activity and moss growth which only serves to increase your maintenance workload the following year. As leaves create some of the best compost it makes sense to utilise nature's free food by using your compost bin for leaf storage each year. Our petrol powered leaf blowers make short work of this arduous task and we can either compost it for you or if this is not possible, for a small fee, remove it from your property.
Now is the time to remove the thatch and dead moss built up in your lawn over the summer by scarifying it to enable efficient transfer of water and nutrients to the roots. This is often paired with aeration particularly if you are in an area of heavy clay or high foot traffic which tends to compact the soil. Depending on the severity of the problem, either a garden fork can be used to aerate the ground, or in worse cases, a hollow tine aerator which removes plugs of soil thereby easing compaction and allowing the movement of nutrients. Do not do any aeration work if frosty weather is imminent as this can cause ground heave but is usually possible for most of October and early November.
If you have a moss problem or unsightly worms casts over your lawn, a treatment of ferrous sulphate will help to kill the moss therefore improving the health of your lawn for next year and it also serves to green up the grass and harden the ground thereby reducing worm activity at the surface.
If you have not fertilised recently, with mild temperatures, it is still possible to give your lawn a light feed but avoid use of formulas with a high nitrogen content at this time of year, higher iron and potassium content is better.
Lastly don't forget to do the last cut on your lawn during November but ensure it is a high cut and you are just trimming the top of the blades off but still looking neat enough to last through the winter months.
Pruning is the art of keeping your trees and shrubs looking their best and flowering their best whilst retaining maximum health. Removing any dead, diseased or damaged wood is always the first step in the process. Once that is complete the rest depends on when the shrub flowers and whether it flowers on the current season's wood or on the year before's growth. Cutting your shrubs at the wrong time could mean you lose out on your flowers for the next year – a general rule to follow is to prune immediately once flowering has finished to ensure this does not happen.
For the majority of deciduous trees, the correct time of year to prune is over the winter months once the leaves have fallen. There is reduced sap rising at this time and the lack of leaves helps to achieve a much better shape and general assessment of the tree through better visuals. Pruning fruit trees is the best way of ensuring a good crop each year and is a good time to check on the overall health of your orchard.
Autumn is the right time of year to plant your bulbs and ensure your garden is a riot of colour come spring. With a huge selection to choose from and flowering times extending from February to June there is something to suit every garden as well as extending the season of interest in herbaceous borders.
Using non-native species in our gardens brings with it the responsibility of caring for the more tender varieties over winter. Depending on the plant, some may need digging up and bringing into your greenhouse or conservatory or others may just require a plant fleece to keep the worst of the frost off. An inexpensive fleece could save the cost of the plant, remember to put them on tender plants before the frosts become heavy.