Book a free consultation to find out more
If you need help with your garden project I am happy to discuss options with you.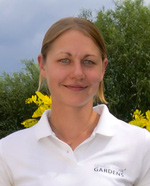 Hedge Trimming Cheltenham
Hedge trimming is an essential part of keeping your hedge looking tidy all year round. Whether your hedge is formal or informal will be the main factor in how regularly it requires trimming. Some of the most common  types of plants used as hedging in the UK are Leylandii, Privet, Yew, Box, Laurel and Beech.
When trimming a hedge a petrol or electric powered hedge trimmer is the best tool to use for the job. Always keep the trimmer blades parallel to the hedge and move the trimmer in an upwards arc starting from the bottom of the hedge. This ensures that the cut leaves fall away from the moving blades and doesn't hinder the cutting. Remember to cut a hedge leaving it slightly wider at the base to allow light to reach the bottom leaves. Hedge trimming is usually performed twice a year during the warmer months but the exact timing will depend on the type of hedge you have.
Great for supporting wildlife and providing additional interest during the year, if you are looking for something a little more informal a flowering hedge could be the right choice for you. If you live more rurally a wild rose hedge consisting of Rosa rugosa plants will give long term interest with its showy flowers followed by rosehips in the autumn with the advantages of being easy to grow with a dense habit.
If you are looking for a flowering, evergreen hedge a few recommendations include: Escallonia, Choisya ternata (Mexican Orange Blossom), Viburnum tinus, Berberis and Pycracanthus.
Great evergreen but non-flowering suggestions include: Photinia x fraseri 'Red Robin', Oleaster, Cotoneaster, Holly and Euonymus fortunei (lower growing).