Book a free consultation to find out more
If you need help with your garden project I am happy to discuss options with you.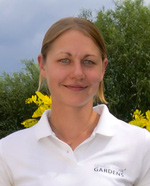 Ongoing weed growth is probably one of the biggest regular tasks that any gardener faces on a weekly basis, particularly if you have fertile soil or your neighbouring land is weed-ridden. Taking a few simple steps in weed control can save you hours of maintenance in the long run. The main systems that we use to reduce areas of open soil upon which weeds can grow include using a heavy duty weed membrane with either bark chippings or decorative gravel on top. At a relatively small cost this is a great way of reducing weed growth. Bear in mind however that weeds can/will still grow from around the edges of the membrane and indeed in the top surface although they are at least easy and quick to pull out in that case. It is worth making a note about any bulbs you may have in the soil as they are strong enough to push through the membrane regardless and so require digging out first or cutting an opening for them if you want to keep them.
Membrane & Decorative Gravel
Another popular alternative to using bark chippings is the use of decorative gravel on top of the membrane to stop weed growth. This method can be used in, for example, Japanese style gardens or in an area where you have many pots which breaks up the gravel and adds interest and colour at the same time. With a wide variety of gravel colours and shapes to choose from, there is something to suit every garden.