Book a free consultation to find out more
If you need help with your garden project I am happy to discuss options with you.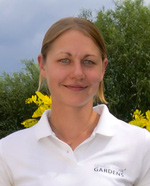 Pressure Washing Cheltenham
Most of us are familiar with the slippery paths and patios we are left with after a wet winter (and year!) which is not only dangerous to walk on but unsightly to boot. The porosity of the stone used is a big factor in the amount of 'greenness' that occurs with sandstone paving being one of the worst affected. If you are going to install a new patio in a north-facing or particularly shady area it is prudent to choose a harder, less porous stone such as limestone or travertine which absorbs less water and therefore does not stain as easily.
As with many maintenance tasks, regular attention is the best method of preventing the need for a much bigger job down the line as well as keeping your property safe for all users. Patios which are neglected for many years invariably end up with dark black spots on the paving which is increasingly difficult to remove the longer it is there for. The two main ways of treating slippery surfaces is to either pressure wash it which has an instant effect in blasting all the algae and moss growth off the surface leaving the stone looking as good as new again or by washing the surface with a specific moss/algae killer solution. Using the treatment fluid requires the patio to be left after application and once the top growth has been killed you can simply brush the patio clean again. Although this technique works well for killing algae etc it will not lighten or improve the appearance of the existing slabs in the way that pressure washing will. A recommended plan would be to pressure wash the paving on the first visit then on future visits use the solution method to keep new growth in check.