Book a free consultation to find out more
If you need help with your garden project I am happy to discuss options with you.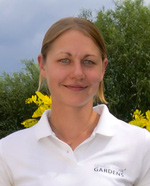 Although installing edging at the same time as the turf is laid is the easiest time for installation it can of course be done at any time or added to mature lawns. The edging we use the most frequently is a flexible metal edging made by Everedge (www.everedge.co.uk). Available in a variety of colours and depths and able to bend into any straight or curved shape we have found it invaluable in our garden projects. As it does not rot, although it is more expensive than wooden edging, it is a good investment due to its long lifespan.
A cheaper alternative to Everedge is using wooden edging boards which are secured into the ground using wooden pegs driven into the ground and screwed together. Wooden edging is better suited to straight edges due to its nature but can be used for gentle curves by making a series of small cuts into the one side of the board. As it will eventually rot this type of edging will need to be replaced every 5 – 10 years depending on treatments and ground conditions.