Book a free consultation to find out more
If you need help with your garden project I am happy to discuss options with you.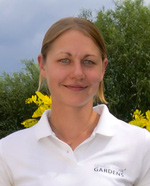 Wire Balustrading Cheltenham
Current safety regulations state that for any drop in height over 600mm around a patio or decked area for example, a safety barrier must be erected to prevent falls and injury.  The height of the top rail is usually between 900 – 1100mm above the structure. Additionally, if children under the age of 5 are going to be using the area, the gaps between the wire must be no wider than 100mm to prevent children from becoming trapped.
There are a variety of methods and materials to use to create this system. The most expensive being stainless steel posts and wires or glass panels. Although this has a very contemporary look, to some it can feel a bit clinical and so might prefer to use wooden posts instead.
Once installed a wire balustrade system can really enhance your garden as it helps to retain an airy feel without obstructing the view and ensuring everyone on your property, including young children, can enjoy themselves safely.