Garden Walls and Retaining Walls
Book a free consultation to find out more
If you need help with your garden project I am happy to discuss options with you.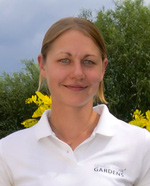 Creating Space with Garden Walling
Although you may sometimes feel that having a sloped garden is a disadvantage, there are many ways you can use the lie of the land to your advantage incorporating features such as terraced levels or raised borders for example. You may also require a stand-alone wall to create a division in your property or perhaps a low seating area around a BBQ. With a wide variety of materials and finishes to choose from, any wall can be comfortably introduced to your garden whether it has a structural or aesthetic role.
Walls can be built out of timber, concrete blocks, natural stone, bricks or ready-made blocks dressed to resemble dry stone walling. As part of our service we can design any type of wall, with or without steps, curved or straight, for installation in your garden. During this process we will discuss what kind of materials would suit your project and budget and explain our method of construction.
Once the wall is complete it is preferable for a coping stone to be laid on top as it helps to keep water off the wall particularly if it is being rendered. Many contemporary designs show walls rendered over the top and painted which is very crisp looking, however, bear in mind the render will require more maintenance compared to the same wall with a coping stone.
Coping stones are available in many different materials such as concrete, natural stone or specially cut paving slabs finished with a bullnose edge. Ideally, the coping stone would also have a drip line underneath it to direct the flow of water away from the face of the wall. Using a coping stone that matches the range of paving used for a patio is a great way to bring a design together and you can also use contrasting or complementing shades for extra design flair.