Book a free consultation to find out more
If you need help with your garden project I am happy to discuss options with you.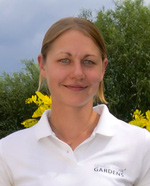 What are the best types of garden lighting?
As a finishing touch to any garden, lighting really creates atmosphere and prolongs the presence of your outdoor space long after the sun has gone down.  There are a wide range of lights available in varying finishes such as stainless steel, chrome, bronze or black plastic as well as the choice between the energy efficient LED garden lights or the original halogen bulbs.
How do I use spot lighting?
If you have a large feature such as an ornamental tree or statue in your garden that you would like to draw attention to, using a spotlight is the ideal choice of garden lighting in this situation. Although spotlights can be either LED or halogen based, the halogen bulbs give a much stronger beam and are usually better suited to this purpose.
Which garden lighting products are best for paving or decking?
A popular feature in decking, paving and driveway projects is to install marker lights often around the perimeter of the surface to improve safety by highlighting the edge of the surface, particularly if there is a drop in height. These lights can be installed into perfectly cut holes within your decking or paving so that the wires are hidden from sight and can take the weight of a car. LED garden lights are the most popular choice due to their long lifespan of around 50 000 hours and energy consumption of only 0.3-1 watts per light. Different colours of LEDs are now available with blue and white being the main options.
How do I add garden lighting to walls and steps?
Where you have, for example, a perimeter wall, raised bed or descending steps, lights can be secured to the wall itself in a style referred to as 'eyelid' lights which directs the light towards the ground avoiding bright light in the eyes. Alternatively, as in the photos below, uplighters can be installed at the base of a wall or feature to shine light up the face of it.