Book a free consultation to find out more
If you need help with your garden project I am happy to discuss options with you.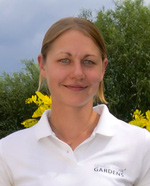 Due to the heavy stress from regular cutting and general traffic going over your lawn each year, a regular fertilisation program gives your lawn the valuable nutrients it needs to perform its best. Although there is usually plenty of sunshine for photosynthesis, nutrients can and do run out especially with the current trend in high rainfall which leaches the nutrients below the reach of the grass roots. The extra density of a healthy lawn in turn reduces the growth of moss and weeds and the deeper root system means your lawn will be more drought tolerant too. We usually suggest applying fertiliser in April and September each year but this of course is dependent on local weather conditions.
Some tips for lawn fertilising:
Apply straight after mowing but only when there is moisture available in the soil or rain is due.
Don't apply fertiliser more than 3 days before another cut is due.
Use a decent spreader and work out the settings before hand to ensure the correct dosage for your lawn. Too much is not better for your grass.
If you have shady areas of lawn use a third less fertiliser in these areas.
Tackle your weed control 2-3 weeks after fertilising for best results.
Moss growth is a very common occurrence in existing lawns but if you don't take preventative measures against it in the early stages, eventually it will take over your lawn. Common causes of moss growth include: cutting too much grass blade off in one go, infrequent mowing, excessive thatch left in the lawn, leaves being left on the lawn in the autumn, scalped areas being left unrepaired and heavily compacted areas of ground. Shady and wet areas particularly on clay soil are also extremely prone to moss growth.
If you have areas of dense moss growth ensure that when you mow you still leave some grass blade showing above the level of the moss – this will allow the grass to continue to grow and put the moss into the shade helping to curb its growth. If you cut the grass to the same height as the moss you will slowly kill your lawn by preventing the already choked grass from recovering.
We use iron sulphate in solution to treat moss growth in lawns. In weaker doses this is the same ingredient used to green up your lawn. There are a few ways to apply the iron sulphate which will depend upon the severity of your moss infestation. For very heavy infestations apply iron sulphate to your entire lawn then once the moss has died off, rake up and remove all the old growth. This will then expose any remaining moss underneath that escaped the first treatment which, upon a second application, should successfully remove most of the moss from your lawn. Allow several weeks between each treatment to avoid blackening the grass. For instances where the moss growth is not too bad, simply rake over the whole lawn first to remove most of the moss and thatch then apply the iron sulphate to kill any remaining growth. It is best to do this when the grass has begun to grow again as the weather warms up in order to allow the lawn to recover successfully.
Prevention is better than cure in this case! If you have a new lawn installed it is far better to be vigilant as time passes and remove the odd weed as they appear than leave weeds to spread and become a bigger problem. There are a variety of weedkillers available on the market including ready mixed spot sprayers which you can use to spray weeds if you only have a few. If you have more weeds to tackle or a larger lawn then investing in a concentrate which you dilute and use as necessary is a better way to go. Some weedkillers are designed to only target a certain type of weed so check the label before you buy and bear in mind you may have to use more than one product to address all the types of weed in your lawn. If you have the time weeds can of course also be removed manually but take care to remove all of the root when doing so.
Sign up to our annual lawn care program and we will design a treatment plan suited to your lawn and carry out the necessary treatments twice a year or more as required.  At a set price per year and payments made via standing order, you don't need to lift a finger to have the lawn you've always wanted.
*Scarification* Moss Removal * Aeration * Fertilisation * Weed Control * Over Seeding * Top Dressing *