Book a free consultation to find out more
If you need help with your garden project I am happy to discuss options with you.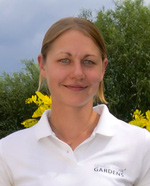 We have noticed an increase in demand and general awareness of using sleepers in various aspects of garden construction. A decade or so ago it was only the reclaimed railway sleepers that were mainly available but with their habit of oozing creosote in warm temperatures, we tend to not use them now unless specifically requested. The 'new' sleepers are fully pressure treated against rot and decay so due to their thickness you can expect a particularly long life from them, especially if they are not in ground contact.  They come in two different colour options, green (which isn't really that green at all) or dark brown. However, if left, they will both weather to a silver grey over time. Due to their shape you can choose to use them flat on their sides or you can use them on edge to get more height out of the same unit, depending on your objective.
Raised Sleeper Vegetable Beds
Apart from retaining walls the most common request we get for sleepers is to make raised vegetable beds predominantly for their ease of use as it saves bending over for long periods of time which is tiring no matter how young or old you may be. We find the best finished height for these for easy access is between 60-80cm from the ground or 3 to 4 sleepers high.  You can also be quite creative with the layout and levels of the beds so they are not an eye sore relegated to a corner of the garden but a feature in their own right. In addition to this, they are relatively inexpensive to install and can be painted afterwards for further interest.
Sleepers can also have a more creative role within a garden when used as a backdrop for a seating area for example. Installed this way I refer to them as 'sleeper soldiers' as the sleepers are used in a vertical fashion shoulder to shoulder. The options are endless as you can stagger the heights for a more jagged effect on the top or you could have a smooth ascending or descending curve or a smooth circular framework around a lawn for example. This configuration is the only way to use sleepers for curved shapes –  it takes longer to install than straight edges however it has a very aesthetically pleasing effect.